As I've said before, I'm less of a chocolate cake girl and more of a vanilla cake girl. That being the case, I think pound cake is absolute heaven.
What you need:
1/2 package cream cheese (4 ounces), room temperature
3/4 cups butter (1 1/2 sticks), room temperature
1 1/2 cups white sugar
3 eggs
1 1/2 cups flour
1 1/2 teaspoons vanilla
What you do:
Preheat oven to 325 degrees.
In a large bowl, cream butter and cream cheese until it's silky.
Add sugar in a slow stream while the mixer is still running. Beat until fluffy.
Just beat it, beat it, beat it, beat it. No one wants to be defeated... (I've been singing "Beat It" all day.)
Add eggs one at a time, beating well with each addition.
Add vanilla.
Remember: The butter, cheese, sugar, eggs and vanilla mixture should be well mixed because once you add the flour, you are only mixing to incorporate.
Add the flour all at once and fold until just incorporated.
Pour into a greased and floured loaf pan. (I just spray on some Baker's Joy.)
Bake at 325 degrees for about 1 hour and 20 minutes. Check at 1 hour. A toothpick inserted into center of cake will come out clean.
When Mr.Perfect asked for whipped cream I yelled, "This cake is so good, it stands alone!" Yeah... I didn't have any whipped cream. I did have strawberries though.
This cake really does stand alone!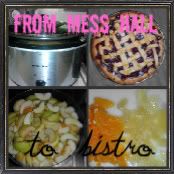 http://ceodraiocht.wordpress.com/decidedly-healthy-or-horridly-decadent-blog-hop/